Tools & Products from MIB Messzeuge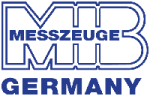 Since more than 40 years our partner MIB-Messzeuge stands for an extensive delivery program with more than 4000 measuring tools. Through an external calibration laboratory MIB - measuring tools can be calibrated according to the valid regulations of VDI/VDE/DGQ2618.
An smal preview of manufacturer's products:MIB Messzeuge
No results were found for the filter!